4 Best Glamping Domes Around The World For Luxury On A Budget that you need to visit in your lifetime. If there is one thing I love as a solo traveler and digital nomad is Glamping and I've been all around the world so that I can share the best glamping with you from my travels. Yes, we got Glamping domes for the low end and higher end, so let's get into it.
1. Phuket, Thailand
Glamping In Phuket, Thailand makes you feel rich even if you don't have much money to spend CLICK HERE. You'll have a private entrance to your own Glamping paradise. Once you open the entrance, you'll have trees all around you and a walking path to your own private pool, upper deck with beanie bag chairs, hammock downstairs and seating area and garden. Let's not forget the most important part, your Glamping dome and all of this starts at $85 per night. One last thing, breakfast is included and you get options. I'll suggest the heart shaped pancakes with fruit and juice. As a solo female traveler, I felt completely safe. As a digital nomad, the internet was great.
2. Chiang Mai, Thailand
Chiang Mai Glamping truly has to be the best utopia for views, peace, and clarity CLICK HERE. Thinking about it makes me smile nonstop. You'll have a private entrance that opens up into a bubble Glamping dome unit for the cost of $110. Your bubble Glamping dome will have curtains inside that you can open when you want privacy of sleep. It was sooo clean, not one insect nor bug inside of the Glamping unit although there were flowers surrounding the entire Glamping resort.
Don't forget to get your Thailand Ebook CLICK HERE that gives you everything you need to have a great trip to Thailand.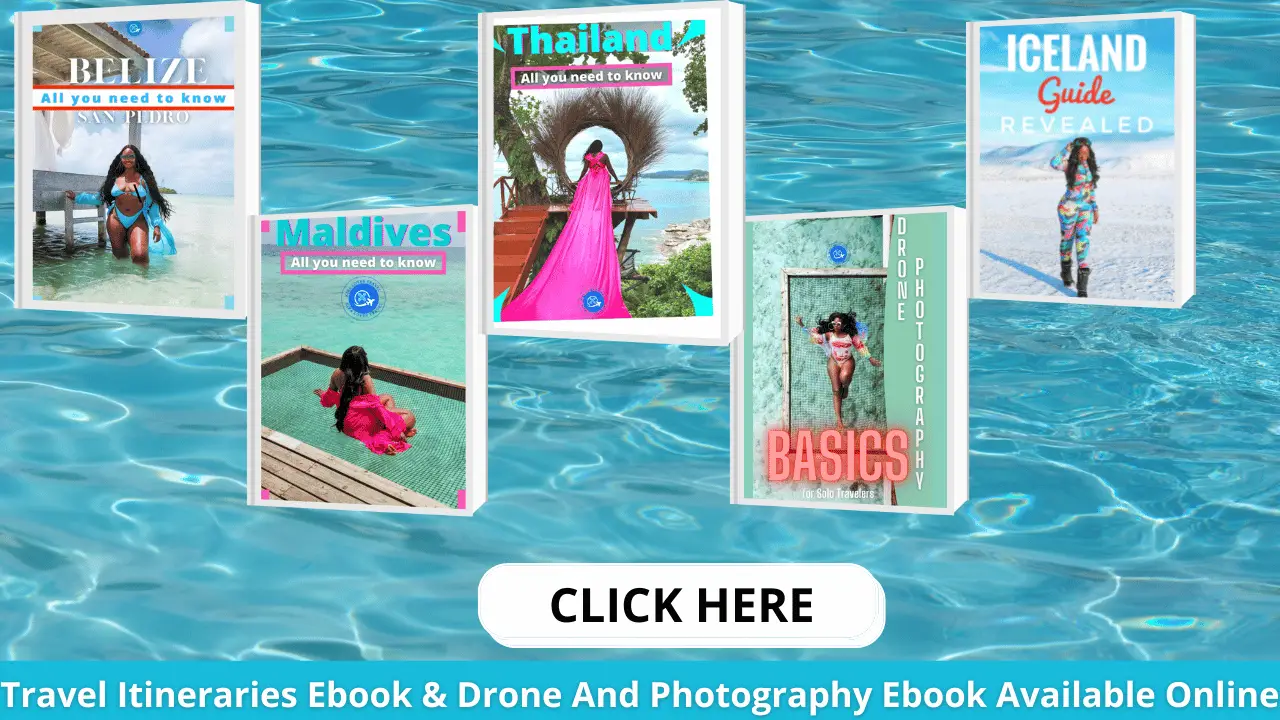 Chiang Mai Glamping also has a bath outside over the mountains with more curtains to open for privacy. If taking a bath outside is not your thing, you can go inside of the bathroom where there is a shower inside for more privacy. The bed was so comfortable and the views were unparalleled. Breakfast is truly like a 4 to 5 course meal and its included. It's a must visit and everyone at the property was so nice. As a solo female traveler, I felt completely safe but as a digital nomad, i'd recommend a wireless hot spot because the internet connection can be spotty.
3. Madeira Island, Portugal
Madeira Island Glamping has all of the comforts of an apartment but in Glamping with views and great hospitality CLICK HERE. It definitely has one of the best Glamping domes around the world. Everywhere you look there is a special touch of beauty in this Glamping unit for. $130. nightly. You can cook your own meals, wash your own dishes, have a dining area inside and outside to eat meals. The bathroom is modern, you receive breakfast in a basket daily that is left outside your door after one knock.
My favorite part of Glamping in Madeira is your private jacuzzi on the deck overlooking beautiful views. Germana is the sweetest owner and she went out of her way to drive me to my next location because I didn't have a car and even offered to take me to the grocery store while there. Her kindness let me speechless. Trust me, you have to book this Glamping while in Madeira CLICK HERE.
4. Grand Canyon, Arizona
The Grand Canyon is beauty personified but add Glamping and you have a match made in heaven. Have you ever been to a glamping resort that has adult sized board games, star gazing, free smores? Now you can go Glamping CLICK HERE in Arizona near the Grand Canyons. Each room has a different theme. Star Wars, Hello Kiity, Futuristics and more. Plus the best sunrises.
If you love nature and want to see the Hawaii in Europe, check out 6 best places to stay in Madeira CLICK HERE.