The best skiing day trip in New York in 2020 is Hunter Mountain. It is 2 hours from NYC making it the best ski resort near New York City for a day trip this winter. You can get there easily with or without a car. More importantly, you can go take a Hunter Mountain Day Trip alone or with others.
Hunter Mountain Skiing – Beginner's Slope
November 2020 Update: Hunter Mountain Opens November 20, 2020 for Winter Season 2020-2021. Reservations, masks and social distancing are required. Chairlifts will only be utilized with people you know (no strangers). Ski Lift tickets go on sale December 8, 2020 (unless you are a priority pass holder) . All monetary transactions are cashless. Ski Snowsuit- CLICK HERE (Hunter Mountain Ski Resort)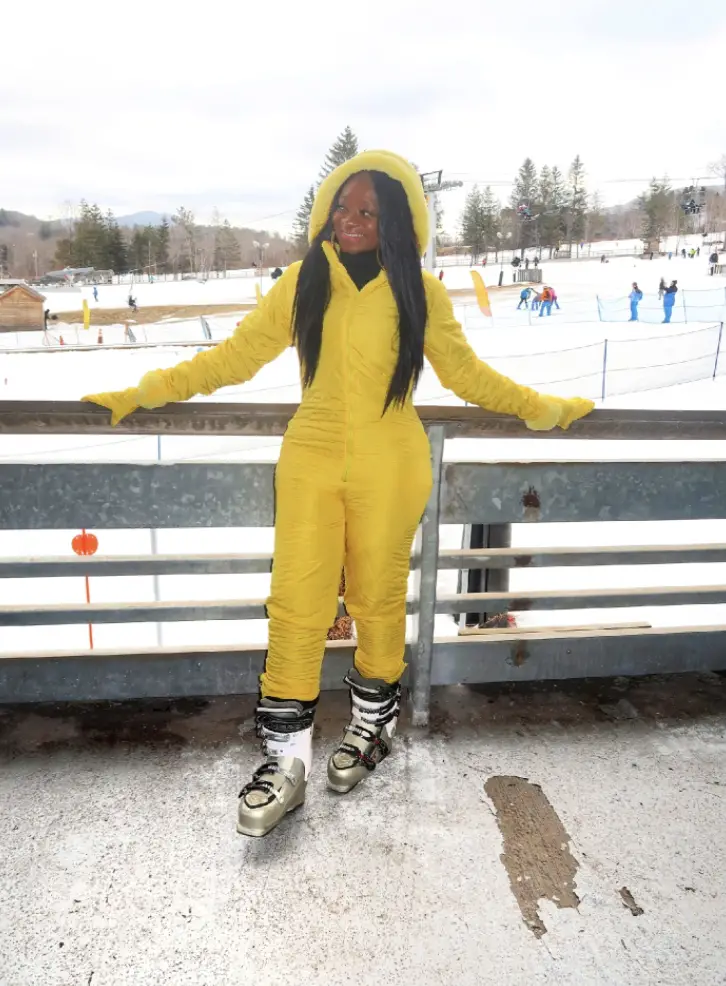 How Did I Get There?
The Day Trip to Ski At Hunter Mountain Ski Resort left from New York City's 42nd street in January 2020 at 630 am. I used the bus company UrbanSherpa to travel to Hunter Mountain. You have the option of just taking the bus roundtrip to Hunter Mountain Ski resort, adding a ski lesson, adding a ski lift, adding rentals, or all combined. I took all combined as a beginner's lesson/ski/ski lift/rental/roundtrip bus ticket package. This cost me $150 for a 90 minute beginner ski lesson with all equipment included and my bus ticket with Ski lift. You will travel back and return to New York City at 430pm and arrive at 7pm. You can find more details at Hunter Mountain Ski Resort or Urban Sherpa Travel .
WOMEN SKI OUTFITS- CLICK HERE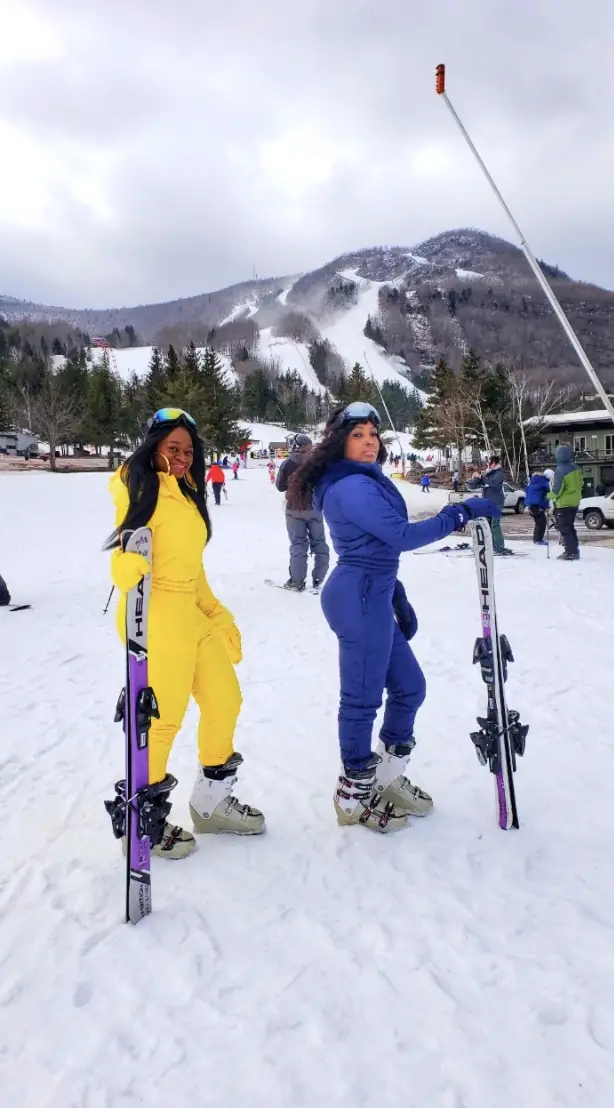 What To Wear?
Let's talk about what to wear skiing before I discuss safety. I did NOT wear any coat over my yellow ski jumpsuitbecause my body was thoroughly insulated. Please go up 2 sizes so it is comfortable and you can put layers underneath (mine was 1 size bigger, but ripped when I fell coming down a ski slope in the crotch). It is not warm enough to be worn alone. This is what I wore skiing:
Bring a change of clothes for your bus ride back to NYC and they have lockers (no personal locks are accepted) to keep your items safe. Men, I didn't forget you. Make sure to wear insulated ski attire when you are skiing which can be found on amazon. If you have an ABC Store near you, then you can get the same exact thick socks, turtleneck, and fur spandex I wore cheaper. than online.
How Do You Pick The Correct Skis/Poles/Helmet?
It took 45 minutes to get all of the ski rental gear: helmet, ski boots, skis, and poles. It is important that you pick the correct ski boots size.
If you can curl your toes in the ski shoes then you need a size smaller (recommendations from people that fit you at the ski resort for the right ski boots size). I am a size 10 in women, and I had to wear a size 9 ski boots.
Typically, you have the go a size down for a very snug fit (once again, based on recommendations of the workers at the ski mountain), and I was also fitted by one of the workers there for the right size. You can pick a variety of colors but they must be the right size boots.
Additionally, a helmet is recommended if you are a beginner skier to protect your head in case you fall on a ski trail. There are various size helmets and you can get help with the right size from a worker at the rental area.
Next, the skis. My friend and I wanted skis to match our outfits, but we had to get skis that coordinated with our ski level (purple was for beginners). Lastly, the ski poles. Ski poles are picked based on your height when in your ski boots. Please get help if you are unsure, as I did. Do NOT pick the COLOR that matches with your ski outfit just for social media pictures. This can result in an unnecessary injury for yourself.
Pay attention to your beginner ski lesson instructor (mine was amazing @danielasadventures on instagram) as you travel to Hunter Mountain Ski School and follow key direction.
Key Instructions for Beginner Skiings:
There are 2 ways to slow down on your skis, proper body position when skiing, and how to use your ski poles.
Go on the bunny slopes at ski school as many times as necessary until you feel comfortable skiing down a big mountain when you get on a ski lift.
Ski Lift Etiquette:ski lifts do not stop, so you need to bend down, lift up your poles and sit down, then pull the bar over you when the lift starts moving. To get off a lift, pull up the bar, and lift your body up and quickly ski away from the lift so you don't fall. If you do not get up in time, the lift will take you back around to the beginner again. Ski lifts only stop when someone is injured.
You will see everything in detail at the end of this blog on my Youtube Hunter Mountain Skiing Video.
HAVE FUN! That is my best tip. Life is short. Please L.I.V.E each day with laughter, love, optimism, light, wonder, humility, confidence, and empathy. Be Unapologetic in being the best version of yourself. Be Kind, and be good to yourself. You will thank yourself later. Be-You-tiful
Hunter Mountain is The Best Ski Resort In New York and everyone there truly was helpful and amazing. You should definitely go skiing at Hunter Mountain for 2020-2021.
Disclaimer: I purchased these items for a ski trip on January 4th, 2020. Prices are subject to change. You will need to wear clothing under the jumpsuit because it is medium thickness. It can't be worn alone or you will be cold. Once you put on layers of clothes or thermal/insulated clothing underneath you will be warm. I am also As an Amazon Associate I earn from qualifying purchases from some of the items in this post.