Where are the best places in Tulum to stay when you are planning a trip to Tulum is the #1 question you'll need answered. Depending on where you stay in Tulum will determine the type of trip you have and the cost of the trip as well. Do you like to be in the center of the action? Are you the type of person that prefers a quiet environment? Is the beach your vibe or do you want to be in town around more locals?
Let's discuss 4 of the best areas of Tulum that you should stay in when planning your vacation in Tulum.
Tulum Beach:
Tulum Beach is the area where most tourists prefer to stay. It is on the beach and a lot of the nightlight, restaurants, shopping, and luxury hotels are in the beach area. It has most of the instagrammable locations that you see on social media on Tulum Beach. I was there in for December 2020- January 2021 and the beach is quite beautiful but it always is very lively with a lot of people, cars, and activity at night.
The best place to stay in Tulum beach for the luxury budget traveler is Coco Tulum (click here) which can start at $112. Secondly, the best place to stay in Tulum beach for the luxury traveler is Azulik (click here) which can start at $450. Prices will fluctuate and can be lower or higher depending on the days you search. Check out website like booking.com that does price matching. If you find a hotel cheaper on another site they will refund you the difference so that you can get the hotel at the cheaper price. Remember hotel prices can fluctuate and may be lower or higher than in this post.
Aldea Zama
Aldea Zama is one of the best places to stay in Tulum. It is a great area if you want to be close to Tulum Beach and close to Downtown. It newer area that is eco friendly with luxury accommodations with budget friendly prices. A lot of the properties offer bike rentals to get around easily. Depending on where you stay some of the restaurants and supermarkets are in walking distance. I vacationed in Aldea Zama at Mediterraneo Hotel (click here) and it was my favorite hotel of my trip. This hotel has amazing customer service, great hosts, swim up rooms, shower at the pool, breakfast included, and bikes available. Shout out to host Silvia for making Meditteraneo hotel the best hotel of my Tulum trip. Aldea Zama was also my favorite area of choice on my trip.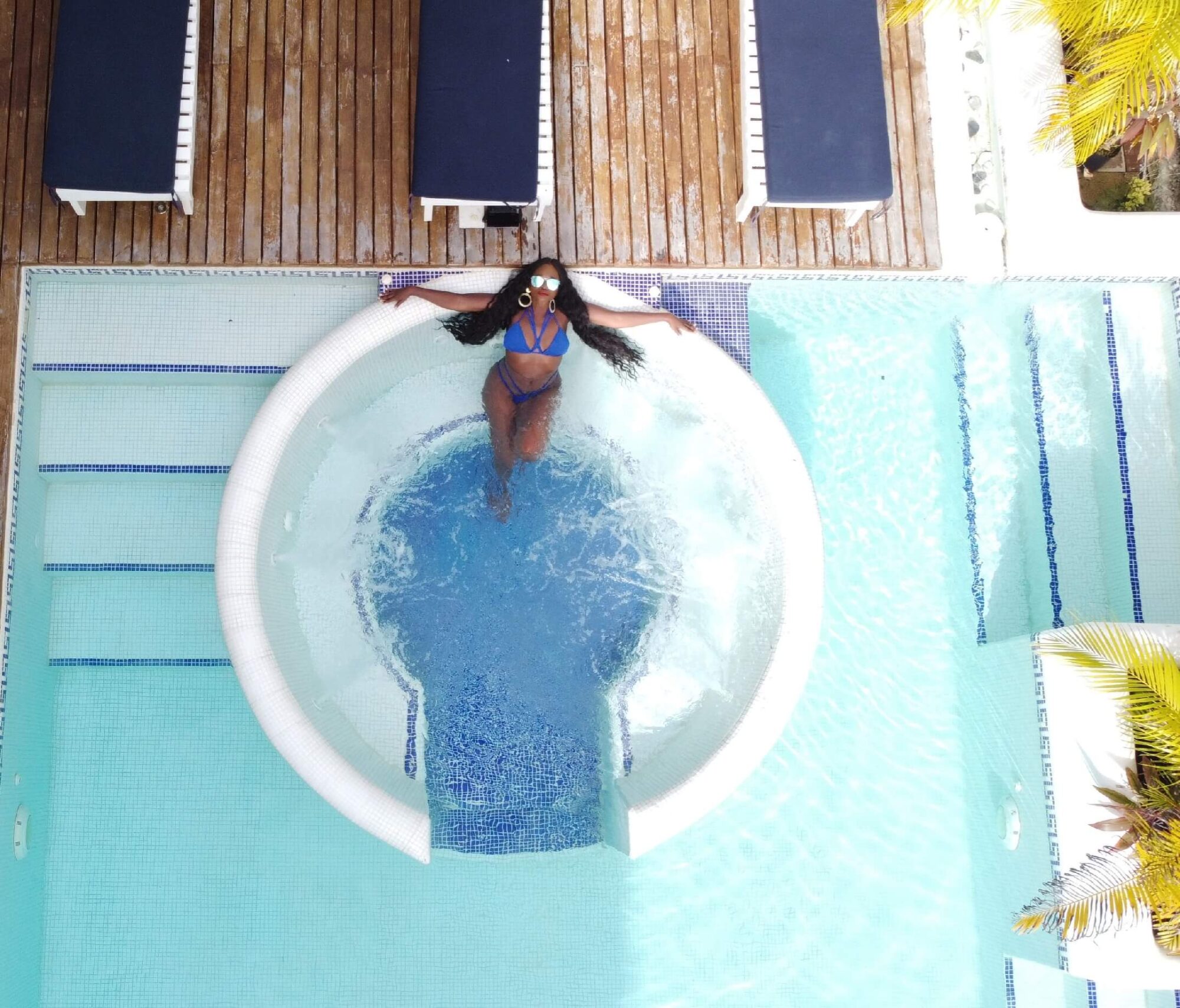 I would definitely recommend Aldea Zama if you want a calmer environment away from Tulum Beach but able to get there easily. I would also recommend it if you want to be able to get to downtown Tulum easily as well. Cabs will be inexpensive from Aldea Zama because of it's close proximity to everything.
La Veleta
La Veleta is one of the best places to stay in Tulum for nature lovers. It has beautiful new luxury condos and vacation rentals. La Veleta is close to Tulum town. You will feel like you are in natures paradise with trees as far as the eyes can see. It is a newer area. You will have to travel to Tulum Town or the Tulum Beach to do everything. I vacationed at the Panoramic Hotel (click here) which can start at $70 a night and has a beautiful panoramic pool.. I also vacationed at Dk Tulum (click here) can start at $54 a night. DK Tulum is beautiful for long term rentals but it is in the surrounded by the jungle and nothing around it.
La Veleta is beautiful but it is recommended that you use a Rental Car (click here) to get around. If you use cabs in La Veleta to go to Tulum Beach it can become costly. It is not in walking distance to anything. You will also need to take cabs to get to Tulum Town as well from La Veleta. A post more on the Panoramic Hotel can be found (click here).
Tulum Town (downtown tulum)
Tulum Town is one of the best places to stay in Tulum because it has the heartbeat of Tulum. It is a blend of locals and tourists that are vacationing. You will find a lot of shops to purchase souvenirs, many restaurants and bars, tour activity shops, and lots of swings (i love swings). Downtown Tulum has a great energy to it and definitely comes alive even more during sunset. One of the best hotels to stay at in Tulum Town is Casa Agape Boutique Hotel (click here) for as low as $97. Casa Agape is a 2 block walk from the main strip. You will be right next to all of the action of Tulum Town.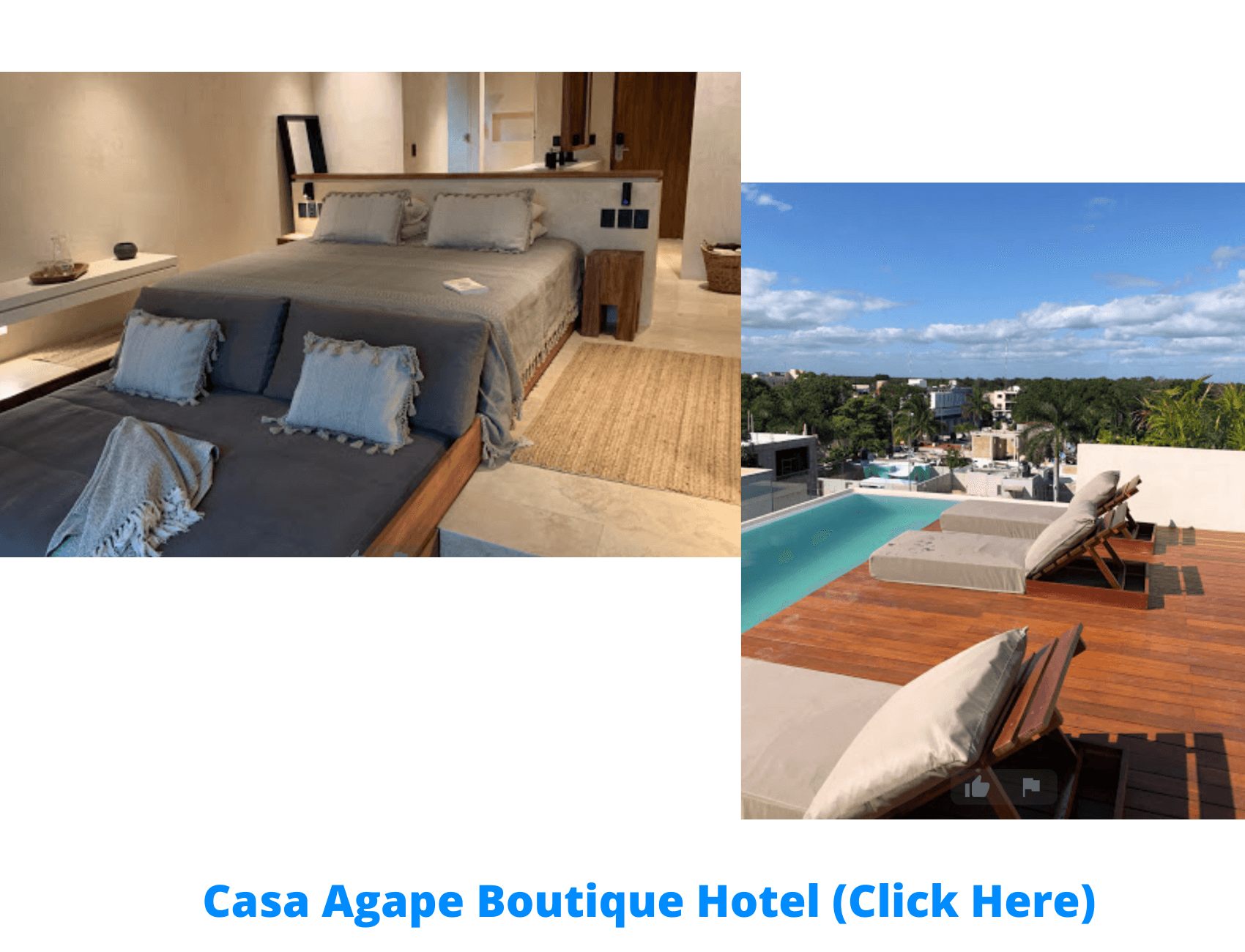 I would recommend Tulum Town if you want to get a feel of the heartbeat of Tulum. You will not need a rental car here because you can walk to everything in Tulum Town. If you want to go to Tulum Beach you can take cabs from Tulum Town.